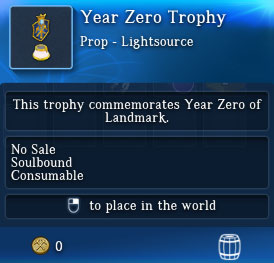 This is a prop that was given to players who had accounts on the one year anniversary of development, Jan. 31st, 2014.
"Year Zero" is a humorous reference to the fact that the game was still not technically a year old at that stage, as it was still in development and not in open beta or a live release.
How to Obtain
Edit
Those who were active on or before Jan. 31st received this trophy by mail.
This item is soulbound and can not be traded or placed on another player's claim.
Other Info
Edit
In addition to this trophy players were given a Year Zero Outfit that looks much like the Artisan's Outfits. The special outfit was given in one of four random colors and features the Landmark shield logo on the front and back of the shirt.
Appearance when Placed
Edit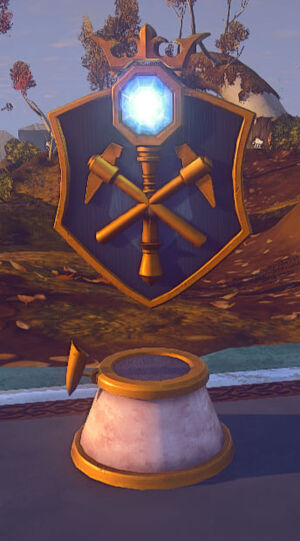 This prop rotates on a base and features a soft, golden light shining on the Landmark shield logo.
Ad blocker interference detected!
Wikia is a free-to-use site that makes money from advertising. We have a modified experience for viewers using ad blockers

Wikia is not accessible if you've made further modifications. Remove the custom ad blocker rule(s) and the page will load as expected.