Whirlwind Axe is an axe that increases the speed of logging and gathering various resources from trees.
How To Make
Edit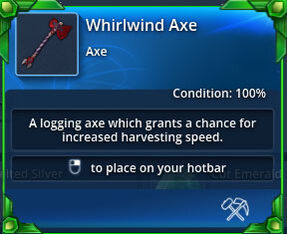 When made at the Replicator, this recipe makes 1 item.
Other Info
Edit
Because you can fell trees faster, axe might also help the rate at which you gather special resources like Adventure Essence or recipes.
Ad blocker interference detected!
Wikia is a free-to-use site that makes money from advertising. We have a modified experience for viewers using ad blockers

Wikia is not accessible if you've made further modifications. Remove the custom ad blocker rule(s) and the page will load as expected.