Props To You is a
goal
found in the
journal
.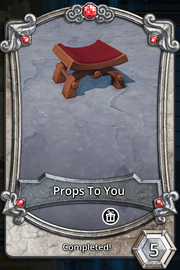 Requirements
Edit
To complete this goal, you must do the following:
Open the Simple Medium Chest prop by clicking on it
Open Build Mode [Tab] and switch to the Prop tab to see the props you can place
Place Simple Stool prop from the Furniture category in your Props. The movement option buttons at the lower right of the Build UI will help you position your prop!
Tint your Simple Stool using the Build Mode Tint tab
Place the Starting Location prop from the Special Effects prop category to set where visitors will arrive on your site
Creatures are a special category of props! Place the Target Dummy from your Props tab. You can use the search field to help find it by name.
Items received upon completion:
Other Information
Edit
You can access the journal by pushing J.
You can access the props tab by pushing [Shift+2]
You can access the tint tab by pushing [Shift+3]
Ad blocker interference detected!
Wikia is a free-to-use site that makes money from advertising. We have a modified experience for viewers using ad blockers

Wikia is not accessible if you've made further modifications. Remove the custom ad blocker rule(s) and the page will load as expected.