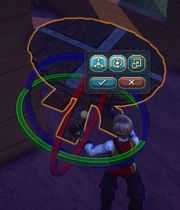 This is a categorical listing of props. See the Prop page for more information on prop placement and a list organized by specific types based in use (eg. all bedding-related items).
Props are items you can place on your claims. Some props can also be purchased via the Showcase in bundles if you do not want to take the time to craft them.
In Landmark, a prop is anything that is not created using the building tools, rather, once crafted they retain the general appearance they have when they were made; for example, you can not change the color of a prop using the paint tool.
As of March 2015, most props are made using the Prop Palette, rather than crafted. In some cases, a few are crafted at a Tinkerer's Workshop. Props that are from special events like the Year Zero Trophy or from promotions and giveaway are not crafted nor do they come from the Prop Palette; props of this final type must either be placed on a claim or stored in inventory.
Most props have also undergone a slight names change in order to make them alphabetical while searching the prop palette. For example Goblet (Large) Silver replaced the old Large Silver Goblet.
Category List of Props
Edit
Pages in category "Props"