See Outfits for the category page with all outfits.
The Casual Victorian Apparel is a crafted cosmetic clothing item. This page is a text-list list of available colors.
This outfit is slightly different on males and females. On males it has a patterned vest, while the version for females has a bodice with a skirt-like like draping.
Many of these pages are in need of images
Casual Victorian Apparel Color List
Edit
Other Info
Edit
This is one of many outfits with a steampunk theme.
Check the other pages for more colors.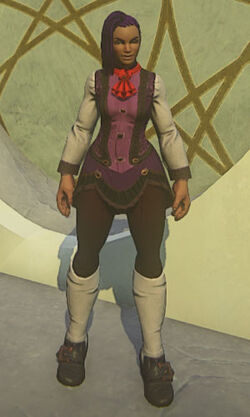 Ad blocker interference detected!
Wikia is a free-to-use site that makes money from advertising. We have a modified experience for viewers using ad blockers

Wikia is not accessible if you've made further modifications. Remove the custom ad blocker rule(s) and the page will load as expected.