Alabaster is a mined uncommon stone.
Basic Info
Edit
See the Mining Guide to learn about mining Alabaster.
This is what Alabaster looks like when it's found in nature.
As a Building Material
Edit
Alabaster can be used as a building material. New textures are added all of the time, so check your the building materials section of the mega-palette in Build Mode in-game to see all textures.
When used as a building material it can be placed to look like as shown below.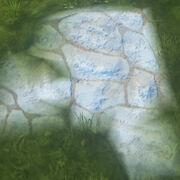 As a Recipe Component
Edit
Alabaster can only be used to craft after it is turned into Cut Alabaster.
Alabaster is used as a component in the following recipes.
Other Information
Edit
Mining underwent many changes before the 2016 game launch.
Ad blocker interference detected!
Wikia is a free-to-use site that makes money from advertising. We have a modified experience for viewers using ad blockers

Wikia is not accessible if you've made further modifications. Remove the custom ad blocker rule(s) and the page will load as expected.